Farmhouse
The Colle degli Olivi farmhouse residence of Assisi is located little more than one kilometre from the old town centre of Assisi, in a restored farmstead that commands stunning views of the surrounding countryside.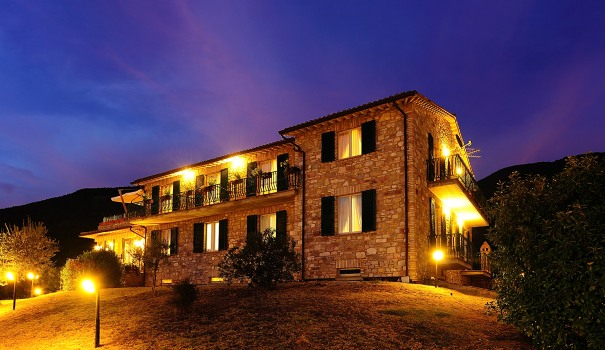 The agriturismo stands within a mature olive grove inside the Parco del Monte Subasio.
The Tardioli family, which owns the entire estate, is delighted to welcome you at any time of year and will be more than willing to provide you with all the necessary tips and information to ensure that your stay in Umbria is truly unforgettable.
Ideal for rediscovering your inner calm and forget the frantic pace of everyday life, the Agriturismo Colle degli Olivi is the perfect solution for a relaxing and regenerating holiday.
Within a four hectare estate composed almost entirely of olive groves, the Agriturismo Colle degli Olivi is an old farmstead built in the typical Assisi pink stone. The large garden contains fruit trees, flower borders, olives, an extensive play area for children, a barbecue area, open air restaurant and spaces for just relaxing or taking the sun.
The Tardioli family personally manages all aspects of the Agriturismo Colle degli Olivi, from taking care of its guests to all the day-to-day running of the olive grove, which is maintained according to strictly organic principles.
Politeness is the cornerstone of our hospitality philosophy.
Welcome to Assisi !